By Rebecca Woods BBC News, West Midlands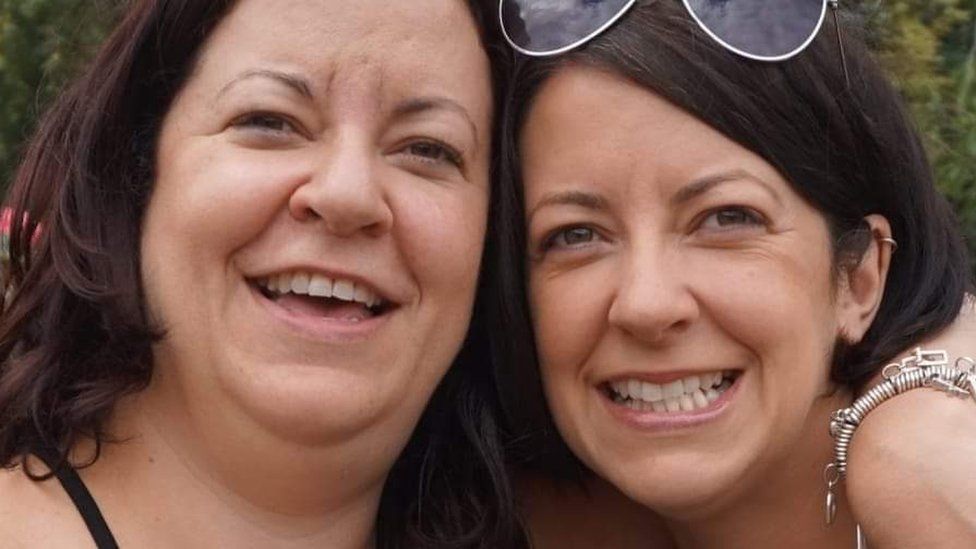 image sourceEmma Ambler
image caption
Kelly Fitzgibbons (left) was always smiling and laughing, her twin sister Emma Ambler (right) said
A man thought to have shot his partner and daughters before killing himself was given a gun licence despite police knowing he had failed to disclose mental health issues and a conviction.
In March 2020 Rob Needham fatally shot Kelly Fitzgibbons, their children Ava and Lexi and pet dog Billy.
Ahead of an inquest, Ms Fitzgibbons' twin Emma Ambler has seen documents about Mr Needham's licence application.
She wants tougher national checks, in the wake of the Plymouth mass shooting.
"It's time for people to stop coming out and defending the law rather than acknowledging there are gaps," said Mrs Ambler.
Ms Fitzgibbons and her daughters, aged four and two, were discovered at their home in Woodmancote, West Sussex, on 29 March 2020, less than a week into England's first lockdown.
Mrs Ambler, of Birmingham, has struggled to come to terms with the tragedy and some days still cannot believe it has happened.
'Has to change'
Watching the news of licensed gun holder Jake Davison's deadly spree in Keyham sent shockwaves through her.
But the subsequent comments from some commentators about UK gun laws being strict left her furious.
"My dad heard a police officer on the radio say only 30 people die from being shot each year - but how can they say 'it's only 30'? What about the families of those 30 people?
"The gun licensing procedure is only guidance, it's not statutory, so it's only there to follow if [an official] wishes. There is also no consistency from one force to another."
Mrs Ambler said it was time for someone to "hold their hand up" and say something has to change.
"People just forget and it becomes old news. It's just going to keep happening if nothing is done."

I just remember her saying 'they're all dead'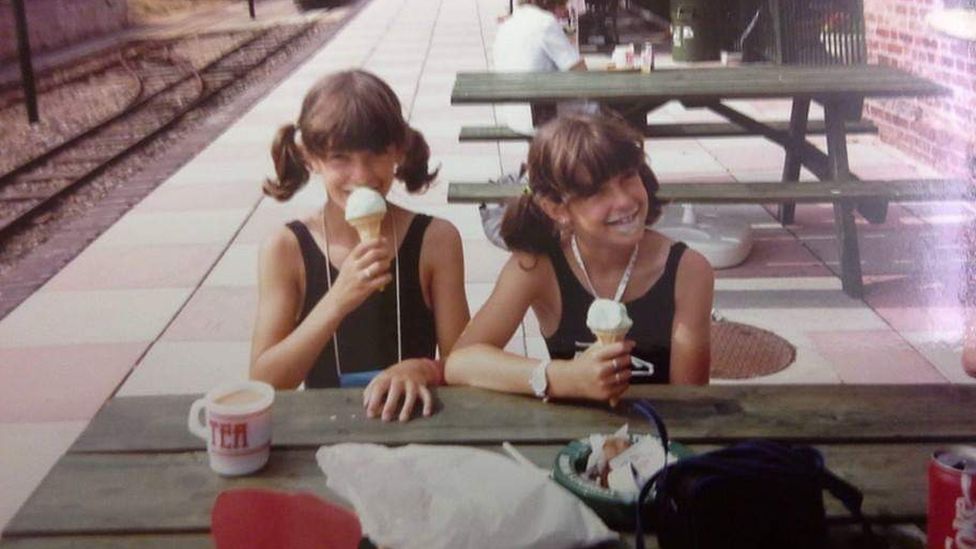 image sourceEmma Ambler
image caption
Emma Ambler said she struggled to comprehend she had lost her twin sister
The twins had always been inseparable, sharing the same tight circle of friends, loving nothing more than a night out and a dance and in March 2020 had only recently celebrated their 40th birthdays.
Although they lived 170 miles apart, they spoke or messaged each other every day.
Ms Fitzgibbons, described by her sister as always laughing and joking, was devoted to Ava and Lexi and the family had spent the first few days of lockdown enjoying activities at home and going for walks.
The sisters shared texts on Saturday, 28 March, with Ms Fitzgibbons saying she and Mr Needham were getting a takeaway.
Earlier in the day, they had had a video call, with both women's children chattering away to each other over the camera.
The next day Mrs Ambler could not get hold of her sister. She had not been active on Whatsapp since the previous evening and all other social media showed the same.
After hours of being unable to reach her, Mrs Ambler contacted other relatives and realised no-one had heard from her either.
"Not responding was so uncommon, I knew straight away there was something wrong," she said.
She raised the alarm with Sussex Police and officers and a family member went round to the family's home.
Eventually Mrs Ambler took a call from a relative. "I just remember her saying 'they're all dead' and I dropped the phone."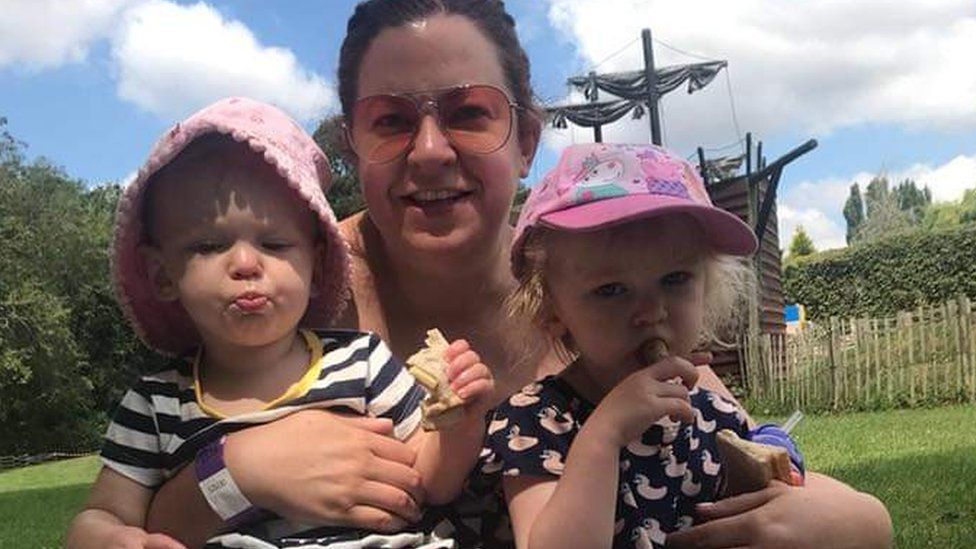 image sourceEmma Ambler
image caption
Ms Fitzgibbons was devoted to her daughters Ava, four (right) and Lexi, two (left)
Early investigations pointed to Mr Needham shooting his family with a gun he had bought just 10 days earlier.
The deaths left their families completely devastated. There were no problems that any of them were aware of.
To this day, Mrs Ambler does not know what would make Mr Needham kill his partner of 14 years, their children and dog.
"We've still no idea why. It's been a complete shock to all of us."

Why did he own a gun?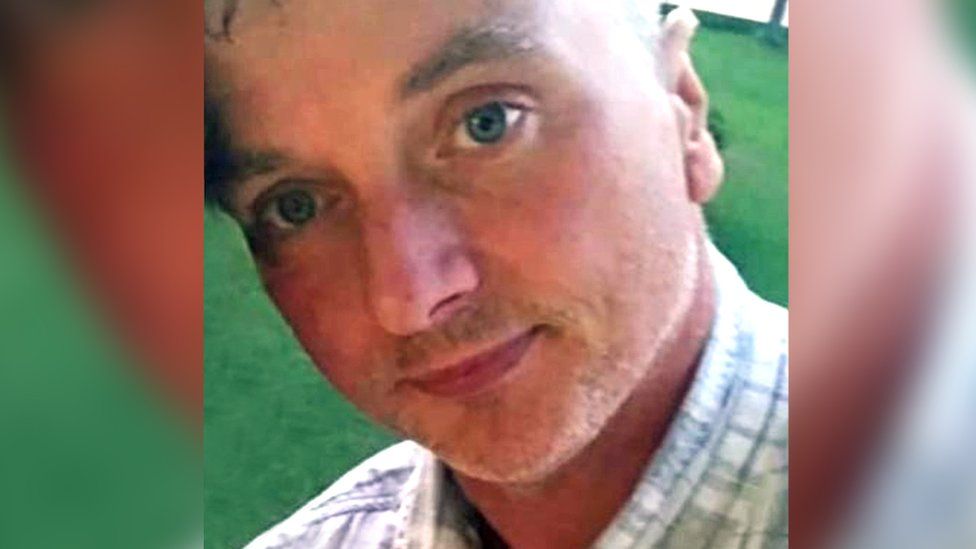 image sourceFamily
image caption
Rob Needham was a builder who had been with Ms Fitzgibbons for 14 years
As their relatives struggled to comprehend what had happened, Surrey and Sussex major crime team began investigations.
An inquest is set to take place next month and the Sussex force has kept Mrs Ambler aware of its findings so far.
She has learned Mr Needham applied for a shotgun licence in 2016 for a hobby in vermin shooting, although said she had no recollection of him ever going.
But it has also emerged he failed to disclose he had had several bouts of depression, treated with antidepressants, on the application form. He also failed to disclose a conviction for stealing a bike some years earlier, Mrs Ambler said.
The application had begun with Hampshire Constabulary, the force area in which Mr Needham then lived. When he moved house it was passed to Sussex Police, who, despite discovering the non-disclosures, granted Mr Needham the licence.
The following year he applied for a firearms licence. Mrs Ambler has been told when police contacted Mr Needham's GP for a background check, the surgery said it did not have the capacity to carry it out. Mr Needham was granted the licence nevertheless, and his continuing struggles with mental health went undetected.

What does the family want to change?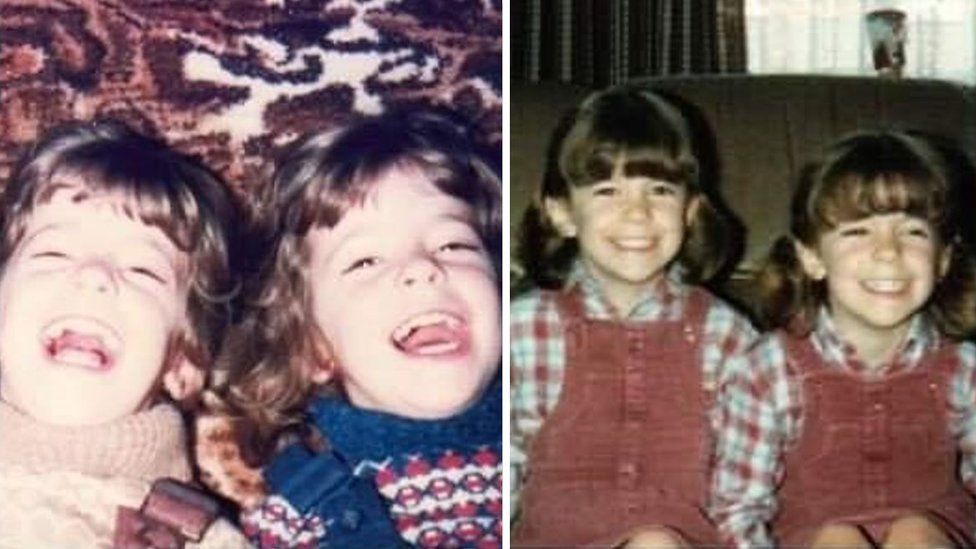 image sourceEmma Ambler
image caption
Mrs Ambler said the past 18 months had been like "living in a TV drama"
Mrs Ambler said the past 18 months had been "the worst ever". "I still feel like it hasn't sunk in," she said. "Because in lockdown we didn't see anyone, sometimes it's like they're still at home and I've just not seen them.
"It's been horrendous - like living in a TV drama."
Learning about how Mr Needham obtained his gun licences has "made it much harder to deal with", she added.
"If he hadn't have had such easy access to a gun, there could have been a different outcome."
Mrs Ambler has thrown her energy into the Kelly Fitzgibbons Foundation, a cause in memory of her sister, Ava and Lexi which she, her family and friends will use to campaign for tighter restrictions around gun ownership.
No gun licence application issued without information from a GP
Anyone failing to disclose key information on application forms questioned about their integrity and suitability for a licence
Licence reviews to be carried out more regularly than the current five years
Police forces and GPs working closer together
A cap on the episodes of depression a licence holder can have
Full medicals carried out face-to-face with a GP, paid for by the applicant
"Currently it seems to be swayed towards a person's right to have a gun, rather than the safety of the public," Mrs Ambler said.
She is also keen to point out the inconsistencies between forces and gun and firearm applications - not every force will automatically contact an applicant's GP.
Sussex Police did not want to comment on the case at this stage.
"This matter is now subject to coronial proceedings and it would be inappropriate to comment further at this time," a spokeswoman said.

'When will someone hold their hand up?'
image sourceEmma Ambler
image caption
Kelly Fitzgibbons's life revolved around her beloved daughters, her sister said
Ms Fitzgibbons was a fun-loving legal secretary who lived for her family and friends. Eldest daughter Ava was a placid, sweet and gentle girl, while younger child Lexi was the complete opposite - with a cheeky nature, hair always wild and incredibly defiant.
"She was always going to grow up to be a handful," said Mrs Ambler. Sadly, the family will never get to find out.
That they are part of the "only 30" who die each year from being shot does not sit well with their shattered relatives.
Mrs Ambler hopes the spotlight on the Plymouth tragedies captures the government's attention.
She has thought many times how the relatives of those shot dead in Keyham must feel about those defending the current gun legislation.
"You'd just feel so much better if someone said 'sorry' instead," she said.
"There's never been any acknowledgement that something's gone wrong. When will someone hold their hand up and have a bit of thought for the victims' families?"

Follow BBC West Midlands on Facebook , Twitter and Instagram . Send your story ideas to: newsonline.westmidlands@bbc.co.uk
The BBC is not responsible for the content of external sites.
Source:
https://www.bbc.co.uk/news/uk-england-birmingham-58245137